Your Penis is Perfect, edition of 10 urinal mats, 2004
When peeing, a man is afforded a brief and private ritual and a very intimate moment with his member. This urinal mat offers him a thought to consider: if men just loved their penes, perhaps the entire world would be a happier place.
These were distributed at a gay bar, a bar with an electric bull and a museum of contemporary art among other places.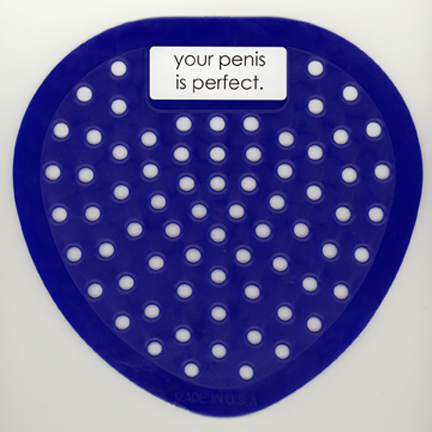 Peter Hopkins Miller is an artist and filmmaker living and making work in Vienna/Chicago. He took his MFA from the School of the Art Institute of Chicago in 2005 and his BA from Hampshire College in 2000. He is originally from Vermont, apprenticed to be a silversmith and creates designed objects for Mulciber, LLC. He's had shows and fellowships and reviews. His film and photographic work is preoccupied with magic and generally investigates the phenomena of the cinema and its constituent, irreducible elements: lens, light, flicker, audience, projection, etc.
His work tends to like being clever.