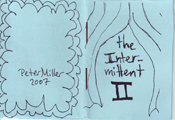 Intermittent II, 2008.

This is the sequel to a microzine that I made when I was a projectionist. It contains two personal anecdotes of expanded cinema that I thought other projectionists might find amusing. When breaking down a film for shipping, I would slip one of these little books into the film's octagonal shipping can so that the next projectionist to make the film up would receive it as a gift. This parasitic distribution is unique in that it ensures that the books find a highly select audience of individuals aware of the intricacies of the flicker, the lens and the light of the cinema.
I am projecting the book on projectionists. Edition of 88.
pdf of Intermittent.